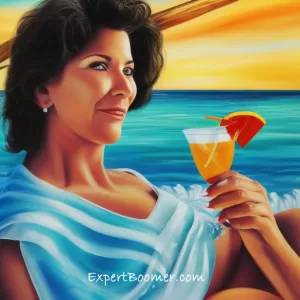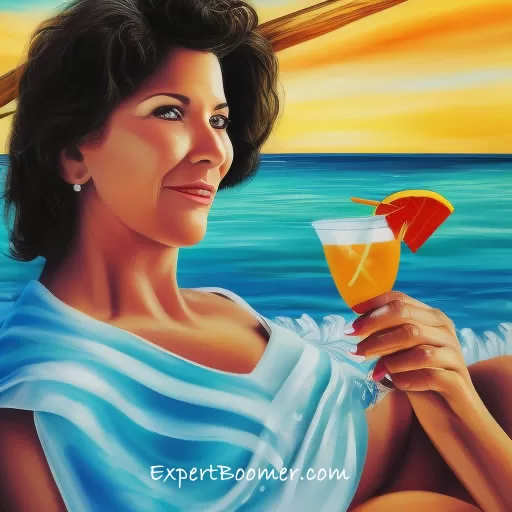 Meet Shirley, the Baby Boomer accountant who's been crunching numbers for over 30 years.
After years of helping small business owners [SMB/SME]with their finances, she realized that many of them struggled to understand the financial side of their businesses.
So, Shirley created a Course to help small business owners learn the ins and outs of their SMBs' financials.
She even added a little humor to the Course, jokingly saying, "You don't have to be a math genius to run a successful business, but it certainly helps if you can count!"
Shirley's Course has been a hit with small business owners, who now better understand their finances and can make more informed decisions for their businesses.
And as for Shirley, she's enjoying her retirement with a Mai Tai in one hand and a calculator in the other because once an accountant, always an accountant.
Baby Boomers: Let's join forces and create an income stream for you!
As a Baby Boomer, you know that retirement years can be tough, especially with the current economic climate and the risk to pensions.
But what if we told you that there's a way to supplement your income and make your money work for you?
ExpertBoomer.com is the solution you've been looking for.
This amazing resource offers 10 free lessons that teach baby boomers how to monetize their skills and knowledge through the internet.
Whether you have experience in accounting, plumbing, consulting, legal, medicine, entrepreneurship, or other niche areas, ExpertBoomer.com can help you package your knowledge and turn it into a profitable business.
With millions of baby boomers having high-demand skill sets and knowledge, ExpertBoomer.com helps them achieve their goal of making money while sharing their years of experience.
Collaborating with ExpertBoomer.com can dramatically lower your fear of outliving your money and monetize your unique knowledge and skills.
But how can you get started? ExpertBoomer.com offers a variety of ways to earn money while working from home in your jammies.
You can create blog posts and Youtube videos or take on paid speaker roles.
You can create Courses and eBooks. [Especially with the aid of the latest AI-Powered tools available for FREE! And the Team at ExpertBoomer.com will point you to these tools.]
Whatever your niche or preferred content format, ExpertBoomer.com can help you get started and teach you how to earn money while sharing your experience.
Don't let your decades of experience and wisdom go to waste.
Sign up for ExpertBoomer.com's newsletter and turn your 'senior moments' into 'money moments'.
Remember, knowledge is power, but money is also mighty powerful.
By collaborating with ExpertBoomer.com, you can learn how to earn money while sharing your experience and making your retirement years more comfortable.
So what are you waiting for?
Join the community today and start earning some serious cash with what you know.
Get free baby boomer income ideas and success stories delivered to your Inbox 1X per week.
No spam! No junk! That's for jerks and younger generations.